Bank of America Charitable Foundation Awards $1.2 Million to Metro Detroit Nonprofits


Grant recipients provide access to job training, basic needs and neighborhood sustainability.

DETROIT - The Bank of America Charitable Foundation celebrated its annual "Detroit Day of Giving" on November 16, which focuses on ensuring individuals and families in metropolitan Detroit have access to the tools and resources that support economic mobility including basic needs and services. The Foundation distributed nearly $1.2 million in community giving to 46 local Detroit nonprofits in 2017. This year, Bank of America has contributed nearly $3 million in Michigan through grants, sponsorships, employee donations, donation matches and other engagements.

Five teams and more than 100 Bank of America teammates in metro Detroit volunteered and made visits to the organizations, learning more about the impact the grants will have on the nonprofits' goals. These grants are a part of the bank's philanthropic investments that are aimed at improving the lives of individuals and families and the communities in which they live.

Metro Detroit families and individuals face difficult financial decisions every day and our nonprofit community plays a crucial role in providing some of these essential services that help people find their way to economic stability. This includes emergency shelter, access to food, financial education and benefits, and reaching individuals at their immediate point of need to connect them to programs and resources.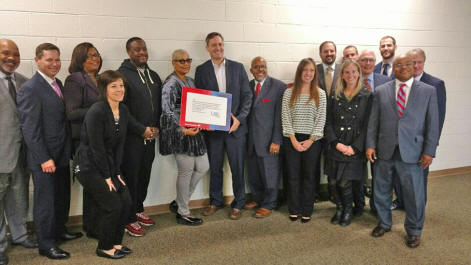 In this photo is CDC-CDC. CDC-CDC has an intake center for LISC, which provides 0% interest home repair loans funded in part by the bank.


"Bank of America invests in the communities we serve through our commitment to partnerships that address complex societal challenges," said Matt Elliott, Michigan market president, Bank of America. "We always focus on the pathways to economic mobility -- by addressing issues of workforce development, education, housing, financial literacy, and community development – to help create thriving communities, this helps to provide for families as they address their needs every day."

Organizations that received grants include: Detroit Economic Growth Association; Focus: HOPE; Central Detroit Christian Community Development Corp.; Jefferson East; YMCA of Metropolitan Detroit; Detroit Riverfront Conservancy; Detroit Historical Museum; Grace Centers of Hope; Lighthouse of Oakland County; Chaldean American Ladies of Charity; JVS; Develop Detroit; Detroit Police Athletic League; Coalition on Temporary Shelter; SER-Metro-Detroit Jobs for Progress Inc.; The Greening of Detroit; Racquet Up; Humble Design; and Catholic Charities' All Saints Soup Kitchen to name some.

A special component of Bank of America's Day of Giving is the Neighborhood Builders Awardees. The bank announced the Detroit Hispanic Development Corporation and Ruth Ellis Center (REC) and as its 2017 partners. The bank awarded these two nonprofits $400,000 in grants -- $200,000 each -- to increase their impact in the community through program expansion or operations. REC is a youth social services agency providing short-term and long-term residential safe space and support services for runaway, homeless, and at-risk LGBTQ youth. REC operates a residential housing program; an outpatient mental health services program; a drop-in center providing safety-net services such as food, clothing, showers, laundry and case management; and Family Group Decision Making, which delivers first intensive intervention with families. Detroit Hispanic Development Corporation serves the metro Detroit Hispanic community through its family-oriented services including its Nuevos Horizontes Housing Counseling program, which provides U.S. Department of Housing and Urban Development Department-certified counselors to work with the community through housing-related group workshops, one-on-one counseling and outside agency referrals.