Shinola Hotel dream becomes a reality in the heart of downtown Detroit


By Mary Armstrong
Tell Us Detroit

DETROIT – The dream at 1400 Woodward Ave. will become a reality on January 2, 2019 in the form of Shinola Hotel-Detroit.

Located on Detroit's busiest thoroughfare in the historic lower Woodward shopping district, the world's first Shinola Hotel offers a completely original hospitality experience infused with a spirit of authenticity from the moment guests cross the threshold.

Shinola Hotel's 129 guest rooms with over 15 different room configurations are beautifully appointed with custom millwork, wallpaper inspired by patterns found during the renovation process and other unique touches.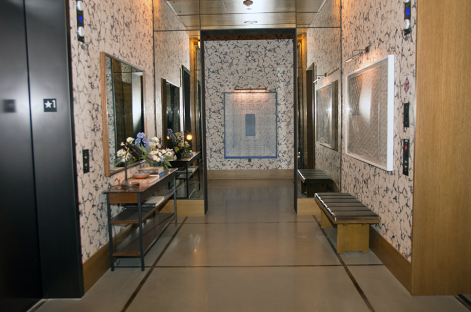 (Photo by Montez Miller/Tell Us Detroit)



As a guest of the hotel, one could have an address on the suite door such as 722 Woodward Ave. That most certainly gives your digs a 'home away from home' feeling.

Such an address boasts a grand entrance into an enormous space with plenty of room for luxurious relaxation and a view of Woodward Ave. facing all the way to the Detroit River and into Canada.

Remotely close the blinds, enjoy the luxury of the bathroom with its three separate components, sink into the customized Amish furniture and you are all set for a glorious evening. Did you forget your reading material? No worries, just select a book from the in-house library in the foyer.

Everyone should be aware that this parcel of land is truly historic because a part of it was first owned by Thomas Parker, '…a free black man, who purchased Lot 70 in Section 7 in a drawing for $1 after Detroit's Great Fire of 1805. He later sold it to the City of Detroit around 1816.'

The unique retail area behind the hotel bears his name, Parker's Alley. Guests can enter the hotel through this area or through the front entrance on Grand River.

The property marries two restored buildings-the T.B. Rayl & Co. department store and a former Singer sewing machine store- with three brand new buildings inspired by Downtown Detroit's historic architecture.

Shinola Hotel offers the San Morello Restaurant for breakfast, lunch and dinner. Chef Andrew Carmelini promises outstanding entrees. Some of the staff members originally from New York believe so much in the hotel's success that they have relocated to become residents of the Detroit area.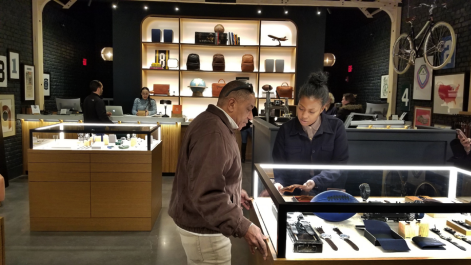 Photo by HB Meeks/Tell Us Detroit



A stay at Shinola Hotel would not be complete without a visit to Shinola boutique. There, you can find jewelry designed by Aaron Decker just for this location. Purchasing a beautiful Shinola watch, a custom bracelet, earrings that are unique, and fantastic leather goods will simply top off your stay.

Andrew Leber, Vice-President of Hospitality, best describes the first encounter with the hotel as "…you're being welcomed into an old friend's home after a long trip." That was the feeling that we got upon entering the 'Living Room' of the hotel on December 18 when the local and national media were invited for a sneak preview.

Dan Gilbert and team truly worked collaboratively to create a unique space. As the lights were turned on officially at the corner of Grand River and Woodward, the crowd shouted loud cheers to let everyone know that Detroit is claiming its place as a first-class city with lots of style and comfort.