Women's History, Suffrage and Promise on display at theWright!



DETROIT, MI - Celebrate Women's History Month with the Charles H. Wright Museum of African American History for a month-long exploration and celebration of contributions made by African American women. Featuring live online discussions, film screenings, crafting sessions and more, the entire month is filled with programs, exhibits, and activities that will inform and inspire you.

The Wright is open for in-person visits, at 315 East Warren Avenue, in the heart of Midtown Detroit's cultural district! Our website, www.thewright.org, and our Mobile Gallery Guide app are filled with empowering content that can be accessed anytime! The app features current and past exhibits including QUEEN: From the collection of CCH Pounder, Ibrahim Mahama's In Between the World & Dreams and more. Each exhibit has (1) a rich image gallery, (2) an audio-only overview, and (3) short annotated descriptions of select artifacts.

Don't miss this Women's History Month and your chance to see our award-winning exhibition, Voting Matters! The Women's Suffrage Movement, located in our Chase Gallery, covers 72 years of contributions, made by African American women, in the struggle for voting rights. "We are excited to present so many significant acknowledgements of the often overlooked trials and triumphs accomplished by women", says Neil Barlay, President and CEO of The Wright.

Rounding out the Month is an exhibition that reminds us how others view the United States as a model for democracy, entitled Posters on Politics. Located in the Wright Community Gallery beginning March 27th, is a collection of political and philosophical posters created by international artists and graphic designers, showcasing issues of police brutality, social justice, environmental justice, women's rights, and American politics.

To schedule your timed admission for in-person visits, log on to www.thewright.org/visit.



ADVERTISEMENT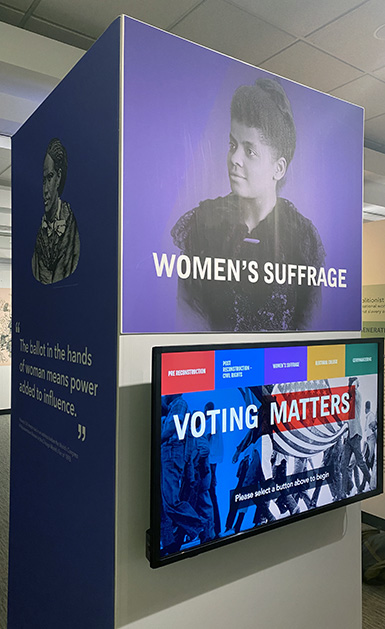 Advertise With Us:
<![if !vml]>
<![endif]>
Certified Minority Business Enterprise