Vanhawks beefs up team with top industrial designer and revolutionary technology

By Gui Pierri/Tech Writer
Tell Us USA

DETROIT (Tell Us USA) - Vanhawks is the industry's first smart carbon fiber bicycle built for commuters with safety, comfort, and connectivity in mind.

The Valour is connected to iDS, Android and Pebble through Bluetooth and tracks rider statistics in real-time including the route, distance, speed, and time. Valour's LED handlebar indicators are connected to the smartphone's GPS navigation and give riders turn-by-turn directions, reducing the distraction of having to look at a smartphone screen. The Valour also includes, the industry's first sensor-driven blind spot detector, which alerts the rider of any object in their blind spot through haptic feedback in the handle bar grips.

And now, Vanhawks brings on Mark Remennik as Chief of Design. Mark has over 6 years of experience working on groundbreaking industry innovations at Cervelo. He plans to work with the team to bring cutting edge designs for the future of urban transportation. Mark has helped design some of the worlds most advanced bicycles at Cervelo Cycles. As the sole Industrial Designer at Cervelo, his role was to combine Aerodynamic, Composite and Structural Engineers' R&D work into beautiful, user centric consumer products.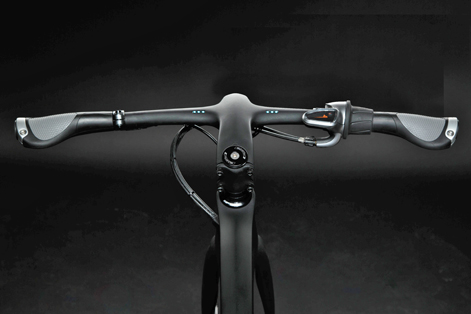 The commute is difficult, and Valour is carefully constructed to combat even the most strenuous ride. The bicycle is crafted to prioritize human ergonomics and is designed to relieve pressure on your back muscles, spine and buttocks, without compromising the frame's strength.

"Our cities are growing faster and faster, we need to solve the inevitable phenomenon of urban congestion. Vanhawks is at the forefront of tackling these problems with innovative products" said Sohaib Zahid, CEO and co-founder of Vanhawks. "Mark not only brings an in-depth understanding of the industry, but an impressive portfolio of products.



"The Vanhawks Valour represents a new era of urban transportation, solving some of the fundamental problems of getting from point A to B in urban centers." said Mark. "I think this is well represented in the incredible response the Kickstarter campaign received. The Valour seamlessly marries innovations in the traditional design elements of the bicycle with groundbreaking connected features. Clearly the project has captured the imagination of our backers as they were willing to put down more than $1000 to help make it a reality."

Valour is available for pre-order for $1249 for single speed and $1499 for multi-speed at www.vanhawks.com