Thousands of workers hit Michigan Ave. for the Detroit Labor Day Parade


By Wendell Bryant
Tell Us Detroit

DETROIT (Tell Us Det) - Michigan gubernatorial hopeful Gretchen Whitmer is urging organized labor to stay with a posative view and stay focused as they march toward the November mid-terms.

Whitmer walked along side of supporters from AFSCME, SEIU UAW and thousands of local union workers and their families as they marched along Michigan Ave. Labor Day Monday in Detroit during the annual Labor Day parade.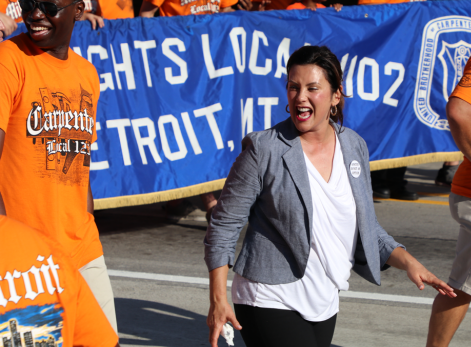 Michigan gubernatorial hopeful Whitmer said, "I'm feeling encouraged," as she worked her way into the crowd as the event prepared to kickoff. "I'm grateful for the men and women of labor in this state. We built the middle class. We're going to make this a state that you can get ahead in again." (Photo by HB Meeks/Tell Us Detroit)


Also in attendance at this September event were the regulars, Congresswoman Debbie Dingell, Senator Debbie Stabenow along with uncontested Michigan District 14 Congressonal nominee Rashida Tlaib. What was an obveous absence was the big national names of the pass like President Bill Clinton or VP Joe Biden.

Senator Stabenow said. "Whether it's pensions or wages, this is about what created the middle class". "If we want a middle class we need to respect people's ability to work hard and succeed."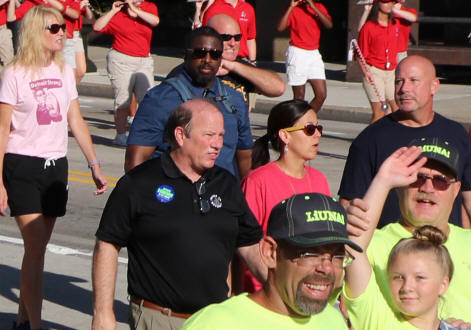 Other notables included Detroit Mayor Mike Duggan, who also marched in the 2018 Detroit Labor Day Parade. (Photo by HB Meeks/Tell Us Detroit)


President Trump launched a Labor Day attack at AFL-CIO chief Richard Trumka, who a day earlier said the commander-in-chief has hurt US workers more than he's helped them.

"Richard Trumka, the head of the AFL-CIO, represented his union poorly on television this weekend," Trump tweeted minutes after wishing the nation a "Happy Labor Day!"

"Some of the things he said were so against the working men and women of our country, and the success of the U.S. itself, that it is easy to see why unions are doing so poorly. A Dem!" he added.

"Our country is doing better than ever before with unemployment setting record lows." He added, "The Worker in America is doing better than ever before. Celebrate Labor Day!"

The unemployment rate of 3.9 percent is not at the best point ever — it is near the lowest in 18 years.

An estimated 20,000 to 30,000 people marched the route down Michigan Avenue from 14th Street to Lafayette Boulevard according to AFL-CIO Metro Detroit President Rick Blocker; Detroit Police didn't have an estimate for attendance earlier in the day.

Union membership, which had been declining over the decades, went up 1.2 percent in the state in 2017 over a year earlier to 658,000 people, according to U.S. Department of Labor statistics. Across the country, the number remained steady at 10.7 percent.