Voter preparation, participation and voter protection will be vital in upcoming election


By Rev. Dr. Wendell Anthony,
President, Detroit Branch NAACP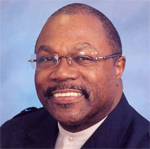 DETROIT – The Detroit Branch NAACP is pleased to join with Governor Gretchen Whitmer and Secretary of State Jocelyn Benson in the noble effort to reassure Michiganders that our elections are safe, secure, and that all votes will be counted. In this era of voter suppression, along with the misinformation and miscommunication from some of our nation's leading officials, we must speak up and speak out now. It is vitally important that the citizens know that we still live in a democracy. Voting is at the very heart and essence of preserving our republic. The Detroit Branch remains committed to voter preparation by informing the general public of their rights as citizens, their access to the voting booth, absentee balloting, and the elimination of any barriers to exercise their constitutional right to vote. We are here to urge every citizen to think critically about any information you hear to the contrary.

Further, we want to indicate our commitment to protecting the rights of our citizens in the exercising of this civic duty. We at the Detroit Branch are assembling the largest body of lawyers and advisors for the November general election. We will not tolerate any individual or groups that threaten or seek to prevent members of any group from exercising their right to vote. We look forward to working with Secretary Benson's office as we urge you to utilize the email misinformation@michigan.gov or call the Michigan Bureau of Elections. We will not just depend upon the U.S. Postal Service or any other institution that may have leaders standing in the doorway of providing access to the voting booth. Every citizen has a stake in the outcome of this election. We all must work fervently to make certain that no elected or appointed official is able to drive a stake in the heart of this election. We will have monitors and observers leading up to and on election day.

This is our time. This is our duty. This is our responsibility. We shall not be turned back by those who seek to destroy democracy, eliminate opportunity, and disrupt the quality of life in our communities. Let us always remember the words of one of the founding members of our nation Thomas Jefferson, "the will of the people is the only legitimate foundation of any government, and to protect its free expression should be our first object." We are here today to indicate our support in the effort to defend and protect the free expression of the voting electorate. Now is not the time to step back. Now is the time to step up and to TAKE YOUR SOLES TO THE POLLS AND VOTE like your life depends upon it. Because quite frankly, it does.