River Days start summer with Kool & The Gang, Morris Day & Time and more June 22-24


DETROIT - The Detroit RiverFront Conservancy (DRFC) will once again bring family fun and summer excitement back to the riverfront with the 12th annual GM River Days presented by Soaring Eagle Casino & Resort on June 22-24, 2018. Widely hailed by many as Detroit's unofficial start of summer, GM River Days 2018 will feature more than 50 local and national musical performances, free fitness, great food and spectacular views along the Detroit RiverWalk. Please find images available here and event details at RiverDays.com.

"We are fortunate to have a riverfront in Detroit that is alive with activity," said Matt Cullen, Board Chairman, DRFC. "The Conservancy is proud of the many special events and programs we host throughout the entire year that encourage visitors to come down and enjoy our beautiful waterfront."

"GM River Days has become a tradition for thousands of families around Detroit," said Mark Wallace, DRFC President & CEO. "The Detroit RiverWalk is the perfect place to welcome summer, make memories with your family, and celebrate the great city of Detroit."

"We remain proud to be a sponsor and a catalyst for the excitement that comes to the Detroit River each year with GM River Days," said John Blanchard, director of local government relations, General Motors. "It's wonderful to see people across the region continue to embrace the spirit of this great event.''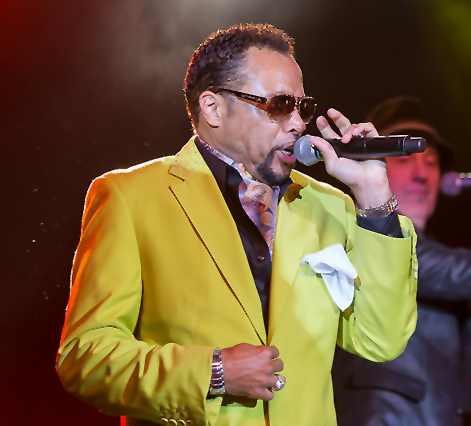 Legendary funk sensation Morris Day and The Time will electrify the stage on Saturday

Headlining National Music Acts
The 2018 GM River Days event will welcome an array of national music stars to the Quicken Loans National Stage, including classic R&B group Kool & the Gang along with tribute band Beatlemania on Friday evening. Legendary funk sensation Morris Day and The Time will electrify the stage on Saturday, along with smooth R&B singer Donnell Jones. The fun picks up again Sunday evening with the melodic sounds of multi-platinum soul singer Avant. Canadian R&B singer Tamia will also perform Sunday. VIP premier seats are available for purchase during the headlining concerts. Tickets cost $35 and include admission to the festival. Tickets can be purchased online through RiverDays.com. A full music lineup across four different stages will be unveiled in May.

Festival Family Favorites
The Flagstar Bank Kids Zone returns with programming produced by The Parade Company. Families are invited to "step right up" into the Kids Zone action, which will include story time, magic shows, strolling River Walk buskers, as well as activities with the Detroit Institute of Arts, Michigan Science Center and more. Additionally, an entertaining lineup will perform on the Meijer Kids Stage. Rivard Plaza will also be the site of a 50-ton sand sculpture.

Bike Night is Back
Motorcyclists are invited to ride on down to the riverfront. Free parking will be provided on Atwater Street between St. Antoine and Rivard starting at 6 p.m. on Bike Night on Friday, June 22.

The Great Outdoors
The Metro PCS Zip Line returns, offering a 300-foot long zip line ride for two people straight through the festival. Tickets will cost $15 for one ride or two for $25. The Michigan Department of Natural Resources (DNR) will once again provide a rock climbing wall for children and adults in the William G. Milliken State Park & Harbor during the weekend. Festivalgoers are also invited to try their hand at archery and to experience learn more about park's natural resources by talking with wildlife and fish experts, foresters and conservation officers who will be on hand.

Look Up
The celebrated Tuskegee Airmen National Historical Museum will present an aerial, and educational, thrill with performances on Friday, Saturday and Sunday. Festival goers can expect lots of gravity-defying maneuvers with pilots flying upside down and sideways, an airplane flown by the Tuskegee Airmen in World War II, and a demonstration of precision formation flying by the museum's own four-aircraft demo team. The airshow will feature emcees at all festival stages. This is one of the very few airshows in all of North America that features mostly local performers.

All Things on the Water
Festivalgoers can also take to the water with Diamond Jack River Tours. Typhoon Tommy, a festival favorite, and his world-class jet-ski team will turn the Detroit River into their stage. Pilots will use a variety of freestyle jet-skis and hydroflight devices to perform big air jumps, backflips, corkscrew spins and underwater dives for the crowds along the riverfront. The United States Coast Guard Auxiliary will add to the fun with rescue demonstrations and the opportunity to tour a Coast Guard cutter.

Pepsi Taste of Detroit Food Court
The Soaring Eagle Cuisine Machine will headline the Pepsi Taste of Detroit Food Court with more than a dozen local eateries and waterfront dining options. "The Soaring Eagle Casino & Resort is thrilled once again add to the enjoyment and unique flavors of the festival," said Raul Venegas, director of marketing & entertainment, Soaring Eagle Casino & Resort. "We're always excited to see how the community interacts with some of our best restaurants and eateries all in support of a truly outstanding weekend in Detroit."

The 2018 GM River Days presented by Soaring Eagle Casino & Resort starts Friday, June 22 at 11 a.m. The event spans from the William G. Milliken State Park and Harbor to the Detroit/Wayne County Port Authority Terminal & Dock, just past the Renaissance Center. Festival hours are 11 a.m. – 10 p.m. on Friday, Saturday and Sunday. The Conservancy charges $3 (and $5 after 3 p.m.) to help underwrite programming and operational costs. Festival admission is FREE before 5 p.m. on Friday, June 22. Visit RiverDays.com for a full lineup for events.

GM River Days presented by Soaring Eagle Casino & Resort is supported by Bacardi, Detroit Marriott at the Renaissance Center, Eagle Security, Flagstar Bank, Imperial Beverage, Lagunitas, Made in Detroit, Meijer, MetroPCS, Michigan Lottery, Nathan's, Pepsi, Quicken Loans, Shorts Brewing Company, Tito's Vodka, Traverse City Whiskey.