Detroit Riverfront Conservancy announces winning design firm for West Riverfront Park


DETROIT – The Detroit RiverFront Conservancy announced today that New York-based landscape architect firm Michael Van Valkenburgh Associates (MVVA) has been selected as the winning firm of its international design competition to transform the 22-acre West Riverfront Park in downtown Detroit into one of the most dynamic public spaces in the world. Renderings and information for media are available here.

"This design competition has captured the interest and the imaginations of not only Detroiters, but of people throughout the world," said Matt Cullen, chairman of the Conservancy's Board of Directors. "The creation of West Riverfront Park would be one of the most significant public space projects undertaken in our city's history. It has the potential to become a world-class gathering place and drive economic growth in Southwest Detroit for generations."

Since the Conservancy opened West Riverfront Park in 2014, it has become a popular destination for Detroiters and tourists alike who enjoy the park's wide-open spaces and sweeping views of the Detroit and Windsor skylines. At 22 acres, it is comparable in size to Brooklyn Bridge Park in New York City, Maggie Daley Park in Chicago and Riverside Park in Buffalo.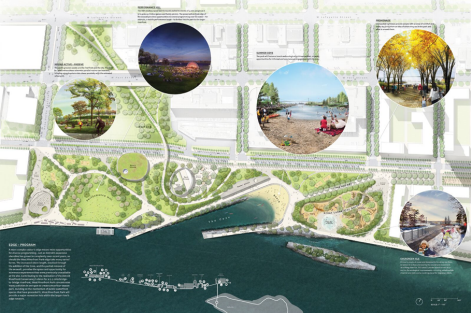 "It was love at first sight when I saw the Detroit River," said Michael Van Valkenburgh, president & CEO of Michael Van Valkenburgh Associates. "I immediately recognized that this new park could draw the city to the water's edge. My team and I spent a lot of time exploring Detroit and meeting many Detroiters in the process. We're looking forward to making West Riverfront Park an amazing place."

Brooklyn Bridge Park in New York and Maggie Daley Park in Chicago are among the firm's most notable projects. MVVA is known worldwide for its creative and unique urban design with projects that include parks, plazas, cultural institutions, colleges and universities and gardens. Clients include Princeton University, Harvard University, Wellesley College, The Menil Collection and Waterfront Toronto.

The MVVA team was made even stronger by the addition of Sir David Adjaye, principal of Adjaye Associates, who has been described in Time Magazine, as "one of the great architectural visionaries of our time."

In 2017, Adjaye was the only architect to be named to the Time Magazine list of 100 Most Influential People. The same year, he won the London Design Medal and received a knighthood from the Queen of England. He also completed the Smithsonian National Museum of African American History and Culture in Washington DC.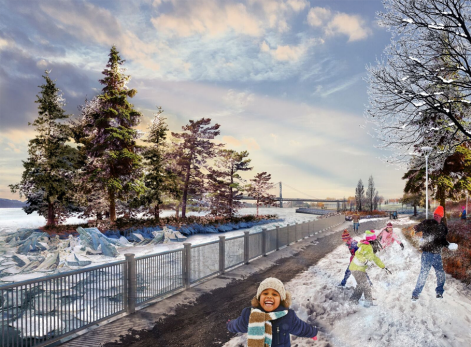 "This park will have a profound impact on the lives of Detroiters and will be a regional draw for recreation," said Mark Wallace, president & CEO, the Detroit RiverFront Conservancy. "The work that has brought us to this moment has been one of the most inclusive and transparent processes that has been undertaken in public space design anywhere."

From its launch in 2017, the West Riverfront Park Design Competition has incorporated a unique community-led design process in which the public has been encouraged to share their ideas and input. To date, the Conservancy has held more 20 public meetings on the future of West Riverfront Park. Additionally, the Conservancy created a Community Advisory Team (CAT) of Detroiters who visited New York, Chicago and Philadelphia to bring back ideas for the future of West Riverfront Park.

The Ralph C. Wilson, Jr. Foundation provided a $345,000 grant to make the West Riverfront Park Design Competition possible and further underscoring the power of public-private partnership in rebuilding Detroit. The grant comes from the foundation's "Livable Communities" focus area that seeks to create strong and sustainable communities by supporting parks, trails and green design.

"We're proud to support the design competition and welcome MVVA to this pivotal project for Detroit," said David Egner, president & CEO of the Ralph C. Wilson, Jr. Foundation. "Transforming West Riverfront Park into a world-class gathering space allows our community to take a significant step toward revitalizing the entire West Riverfront. This project has the potential to make a significant positive impact that will resonate throughout our region for many decades."