Detroit Pistons unveil Nike edition red "Motor City" uniforms
Crafted By Flagstar Bank, the Detroit Pistons' Official Jersey Partner, New Motor City Jerseys Will Be Available at Pistonslr.com and at the Little Caesars Arena Team Store November 27
DETROIT, Mich. – The Detroit Pistons announced today the unveiling of their Nike City Edition "Motor City" uniform that will be worn during 17 game dates throughout the 2019-20 regular season. Crafted by Flagstar Bank, the Detroit Pistons' official jersey partner, the uniforms will debut on November 29 when the club hosts the Charlotte Hornets at Little Caesars Arena.
The 2019-20 Detroit Pistons City Edition uniform is an evolution of last season's black and gray version and ties into the culture of Detroit while offering Pistons fans a limited-edition jersey option at retail. Through collaboration with the NBA and Nike, the Pistons created this uniform based on inspiration from both the automotive culture – Motor City across the front, bold highway-like striping with a carbon fiber texture, bold muscle car coloring – and also the hard-nosed mentality of the city. The uniform, which has a red base color with blue accents and embellishments, will be accompanied on the court with special-edition warm-up apparel. The Pistons last used a red alternative uniform back in 2006-07.
Nike City Edition uniforms are designed to honor basketball fans in each NBA city who bring energy and passion to the court every night while cheering on their favorite teams.
The new Motor City uniforms will be worn on select dates including eight home games and nine road games shown on the schedule below: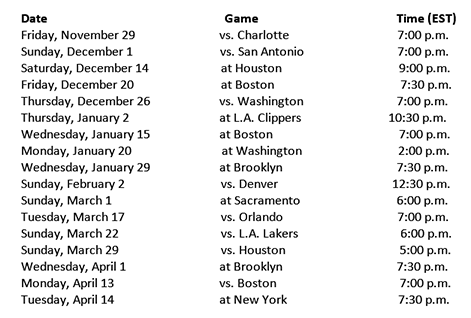 A special Black Friday 3-game bundle ticket offer runs from November 20-29 and includes three games (2/2 vs. Nuggets, 3/27 vs. Clippers, 4/13 vs. Boston) and a new city edition jersey starting at $199 (pistons.com/blackfriday). Motor City jerseys will be available for purchase by visiting the team's online merchandise store, www.pistonslr.com, and at Little Caesars Arena beginning Wednesday, November 27.