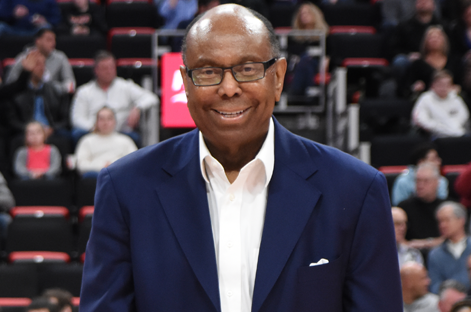 Throughout February the Pistons have chosen to honor influential African Africans in Detroit in observance of Black History Month. Friday's game featured a video and presentation to Dr. William Pickard, chairman of Global Automotive Alliance. (Photo by Montez Miller/Tell Us Detroit)
Pistons win third straight game, take down the Knicks 120 – 103


By Ellen Chamberlain
Tell Us Detroit Sports

DETROIT - Detroit faced off against the New York Knicks at Little Caesars Arena on Friday.

The game began on a solemn note as LCA observed a moment of silence for the late John Dingle, the longest-serving congressperson in American history.

Tipoff immediately changed tone as Detroit set the pace of the game. By the end of the first quarter Detroit led New York by 19 points. Detroit kept their comfortable lead for the entire first half.

In the second quarter unsportsmanlike conduct went unchecked when Dennis Smith Jr. of the Knicks pushed Blake Griffin so hard he doubled over. The rivalry continued after halftime when officials called a flagrant foul on Smith Jr. – this time for knocking Griffin completely to the ground.

New additions to the Pistons saw game time in both halves of the game. Pistons head coach, Dwane Casey, is finding ways to work the newest players into the team's model. Reggie Bullock and Stanley Johnson were traded earlier in the week for Sviatoslav Mykhailiuk and Thon Maker.

"You can't replace Stanley [Johnson], he's one of the bigger and stronger guys in the league at that position defensively. We'll have to find out who can do it…I think you have to do it by committee," says Coach Casey.

In the third quarter the Knicks managed to close the sizeable lead Detroit held and even tied the game. Thanks to Andre Drummond's impressive 29 game points, Smith Jr.'s 31 points for the Knicks was not enough to pull them out of the hole.

Throughout February the Pistons have chosen to honor influential African Africans in Detroit in observance of Black History Month. Friday's game featured a video and presentation to Dr. William Pickard, chairman of Global Automotive Alliance, co-managing partner of MGM Grand Detroit Casino, CEO of Bearwood Management Company and co-owner of five black-owned newspapers.

The Pistons won, 120 – 103. They will host the Washington Wizards at Little Caesars Arena on February 11.