Archdiocese hosting Mass of Welcome and Inauguration of Ministry for Archbishop Paul Russell, new auxiliary bishop
Archbishop Russell will offer the homily at Mass at 2 p.m. Thursday, July 7 at the Cathedral
DETROIT - Members of the faithful and general public are invited to attend the Liturgy of Welcome and Inauguration of Ministry for Archbishop Paul F. Russell as the 31st auxiliary bishop of the Archdiocese of Detroit.
Mass will be celebrated beginning at 2 p.m. Thursday, July 7 at the Cathedral of the Most Blessed Sacrament, located at 9844 Woodward Avenue in Detroit. Archbishop of Detroit Allen H. Vigneron will serve as the principal celebrant with Archbishop Russell serving as homilist. The Mass will be livestreamed at aod.org/livemasses and on the AOD Facebook page.
After his arrival, Archbishop Russell will serve alongside Bishop Gerard Battersby as auxiliary bishop and moderator for the South Region of the Archdiocese of Detroit, which covers the western and downriver portions of Wayne County, as well as Monroe County. The Archdiocese of Detroit has three additional auxiliary bishops: Bishop Cepeda, moderator for the Northwest Region covering Oakland County and Lapeer County; Bishop Robert Fisher, moderator for the Northeast Region covering Macomb County, St. Clair County, and the Grosse Pointe communities; and Bishop Donald Hanchon, moderator for the Central Region covering Detroit, Hamtramck, and Highland Park.
It is planned that when Bishop Hanchon retires, Bishop Battersby will assume care of the Central Region and Archbishop Russell will continue to assist with the South Region.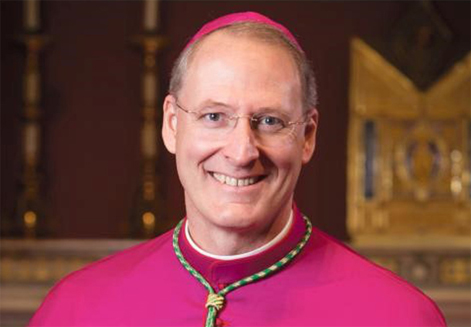 Because Archbishop Russell was granted the title "archbishop" when he was appointed an apostolic nuncio by Pope Francis in 2016, he will retain that title while serving as an auxiliary bishop to current Detroit Archbishop Allen H. Vigneron. (Photo courtesy of Archbishop Paul F. Russell)
On May 23, it was announced that Pope Francis had named Archbishop Russell as an auxiliary bishop of Detroit. Having been given the title "Archbishop" ad personam by the Holy Father when he was appointed Apostolic Nuncio to Turkey and Turkmenistan in March 2016, Archbishop Russell will retain this title while serving as an auxiliary bishop in the Archdiocese of Detroit.
An auxiliary bishop aids the diocesan bishop (in our case Archbishop Vigneron) in the care of the archdiocese. This is different from a coadjutor bishop, who usually succeeds the diocesan bishop after his retirement. There is no coadjutor bishop in the Archdiocese of Detroit.
Members of the media are welcome to cover the Mass of Inauguration and Welcome for Archbishop Russell. To arrange for coverage, please contact Holly Fournier at fournier.holly@aod.org. To preserve the dignity of the service, we ask that camera operators refrain from using flashes, or any form of artificial lighting, and that special care be taken not to impede procession for Holy Communion. Thank you in advance for heeding any instructions you may receive from parish and archdiocesan personnel.