Holiday starts with the Detroit Tree Lighting on Friday night at the award-winning Campus Martius
DETROIT - Friday night, the holiday season kicked-off with the 20th Annual Detroit Tree Lighting presented by DTE Foundation at Campus Martius Park in downtown Detroit. To usher in the holiday spirit, this year's theme is "Merry & Bright: 20 Years of Holiday Lights."
In honor of our 20th anniversary, this year's event had a stellar line-up of entertainment, starring Nathan Chen, Miko Marks and many more.
To accommodate the growth and popularity of the event, this year the festivities extended throughout the entire weekend, starting with the Tree Lighting and continuing with the official season opening of The Rink at Campus Martius Park on Saturday.
The festivities for the Detroit Tree Lighting Ceremony presented by DTE Energy Foundation ran from 6:30 PM until midnight, Nov. 22, with entertainment, live music, ice-skating shows featuring area skating clubs, and many other seasonal family activities.
This year's Tree Lighting will mark the 20th Anniversary of the official opening of Campus Martius Park. For more information, visit www.campusmartiuspark.org. The Tree Lighting kicks off the 10th annual Winter Magic Season at Campus Martius Park.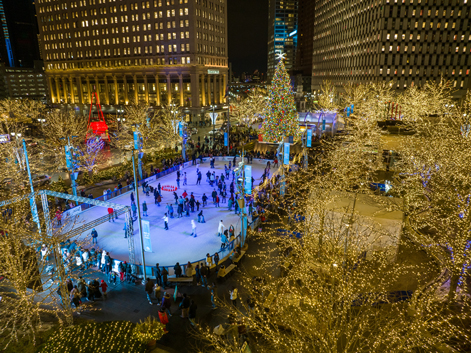 The Rink at Campus Martius Park presented by Visit Detroit will open the 2023-2024 season with a weekend celebration, Nov. 18-19, that features themed skating parties, live DJs, guest appearances on ice, special offerings and more. Michigan's premier family-friendly outdoor ice rink located right in the heart of Downtown welcomes nearly 100,000 people annually. Following its festive opening weekend, The Rink will be open daily, including holidays, through March 3, 2024.