Detroit Seniors Get Help from Comcast with Digital Adoption
DETROIT, MI - Seniors along with other residents learned how to make their dollars stretch further at a recent educational event with Comcast at Bicentennial Tower, a 300-unit affordable family, and senior high-rise in Midtown.
Xfinity technology consultants were on hand to inform attendees about the federal government's Affordable Connectivity Program (ACP), which offers income-constrained households a $30 monthly credit for internet service. The ACP credit, combined with Comcast's Internet Essentials or Internet Essentials Plus plans, makes internet service free for eligible households.
"Comcast understands the barriers to digital adoption, and we continue to meet people where they are to help them clear those roadblocks to get online," said Melissa Bahoora, vice president of Sales for Comcast in Michigan. "It is so important that we work with our community partners, like Bicentennial Tower, to help educate residents about the many ways being online can enhance their lives, such as having access to telehealth, distance learning, and work-from-home options."
According to the Census Bureau, roughly 35% of households in the city of Detroit do not have a broadband internet subscription despite broadband coverage being available throughout the city.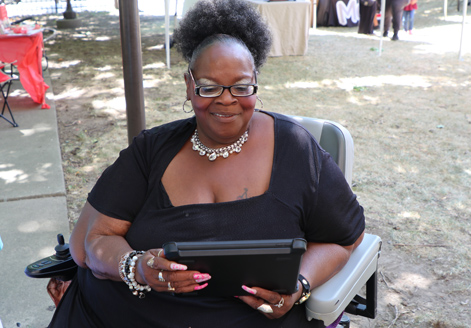 (Photo by HB Meeks/Tell Us USA)
"The obstacle isn't internet access, a common misconception—there is network infrastructure and coverage available across virtually every corner of the city," said Shannon Dulin, Government Affairs manager for Comcast in and around Detroit. "In fact, Detroit residents have access to the same robust and reliable gigabit speeds that are available in neighboring suburbs. The true challenge lies in getting households to adopt broadband internet service, so we need to focus on eliminating the barriers to adoption, including cost, lack of proper equipment, and lack of digital skills training and support."
A recent nationwide study by the Boston Consulting Group found that Digital Navigators are critical to closing the digital divide and reducing socioeconomic inequalities by helping more people get online. Digital Navigators are individuals affiliated with trusted community organizations who are trained to help people access the Internet, use devices, and build digital skills.
The study surveyed 1,500 individuals across the country who received support from a Digital Navigator. With the support of these digital caseworkers:
• More than 65 percent of survey respondents said they obtained Internet access or a computer or tablet at home; among Hispanic and Black Americans, this increased to 72 percent.
• More than 85 percent of all respondents said they used the Internet more frequently.
• Almost half surveyed obtained better healthcare, and 40 percent received support with basic needs like food, rent, and housing.
• 1 in 3 found a new job or earned a higher income.
"Thirty dollars a month goes a long way, especially when our residents have other bills to pay and prescriptions to fill," said Jean Johnson, Social Service Coordinator at Bicentennial Tower. "Having educational and hands-on support from Comcast is essential to helping our residents get online and participate in our digital world."