Detroit breaks ground on new $6.68M waterfront community center at A.B. Ford Park
• New center possible thanks to Strategic Neighborhood Fund donation from Penske.
• Facility will be part of $9M in total investment coming to A.B. Ford Park.
• Building will be solar-powered, Detroit's first climate resiliency center.
DETROIT - Mayor Mike Duggan joined community leaders and Penske Corporation today to celebrate the beginning of construction on a new community center at A.B. Ford Park in Jefferson Chalmers along the east Detroit riverfront. This new, state-of-the-art solar-powered facility will replace the Lenox Center, which has sat vacant for nearly a decade.
The Lenox Center was unusable and located within the FEMA flood plain. The new building will be an 8,116-square-foot state-of-the art facility built outside the flood plain and will serve as a new community space as well as a sustainable resilience hub during emergencies.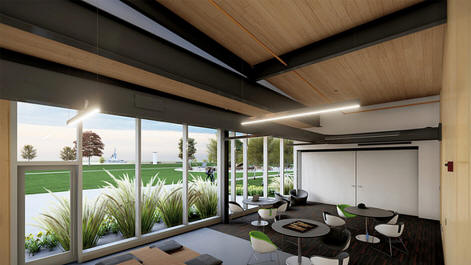 The new center will include a community hub space, flexible space for indoor youth sports and community events, classrooms, and a quiet learning space.
"For nearly a decade, the residents of Jefferson Chalmers have wanted a new community center. Now, thanks to Roger Penske and his commitment to this neighborhood through the Strategic Neighborhood Fund, they soon will have one that will be available to them even through power outages," said Mayor Mike Duggan. "Neighborhood revitalization, guided by residents and supported by the city and our business partners, has been the key to the success we are having through the SNF. We believe this new center will be a template for future ones like it."
Construction has already begun with land clearing and will continue next week work on the foundation of the new building. The new center is slated to open in 2023.

The $6.68 million building is funded using $2.73 million of Penske Corp.'s $5 million Strategic Neighborhood Fund (SNF) donation and $3.95 million in City of Detroit funding.