In Detroit, Daffodils signal the beginning of warm weather and the spring planting season
By Laydell Wood Harper
tellusdetroit.com
DETROIT - The 12th annual Daffodil Day Luncheon was held this past Wednesday, April 20th, at the Detroit Yacht Club on Belle Isle to a sold-out crowd. Local garden clubs from the entire metropolitan area are represented at the Daffodils 4 Detroit Luncheon; Detroit's Indian Village Branch, Grosse Pointe Farm & Garden Branch, Warren Branch, Troy Branch, and others. The Michigan Division Women's National Farm and Garden Association sponsors the annual event.
More than 450 people attended this popular annual event. And, what a delightful sight it was: women dressed to the nines in their finest spring attire with matching spring pastel-colored straw hats of yellow, white, pink, mint green, and other spring colors.
Daffodil Day is one of the most popular events of the year, and think, this year, it's one of the first significant fundraising events since everyone felt comfortable enough to go out to a large event.
Founded in 2010 by Claudia Scioly, a Women's National Farm and Garden Member, the Daffodil Day Luncheon is an annual event to showcase restoration efforts on Belle Isle and to raise money for the purchase and maintenance of additional Daffodil bulbs.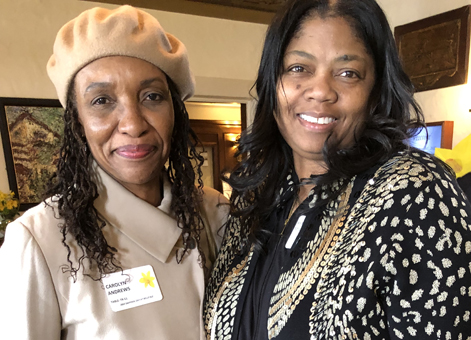 Pictured are Indian Village Garden Club members Carolyn Andrews (L) and Renata Miller who attended the annual Daffodil Day Luncheon on Wednesday, April 20th, at the Detroit Yacht Club on Belle Isle. (Photo courtesy of Indian Village Garden Club)
Daffodil Committee Chair Robin Heller introduced Mary Sheffield, Detroit City Council President, and Amanda Treadwell, Michigan Department of Natural Resources. Keynote Speaker Carolina Pluszczynski, Chief Operating Officer, Michigan Central, Ford Motor Company. The theme was Michigan Central Mobility Innovation District.
The city of Detroit is inviting the public to enjoy the 2 million daffodils now blooming around the city.
"Detroit is becoming a more beautiful city by the day, and at no time is it more visible than during these next two weeks when our daffodils are in full bloom," said Barry Burton, project manager of the Landscape Design Unit for the City of Detroit. "By the end of this year, we will have 2.5 million bulbs in the ground, and we're just getting started. We have the potential to become a major visitor attraction each spring."
The Detroit beautification project is in full bloom. More than 2 million Daffodils have been planted to date, and Five hundred thousand more will be planted this fall.
According to a spokesperson from the Mayor's office: As part of Mayor Duggan's mission to create a City of Beauty, 2 million daffodil bulbs have now been planted in partnership with Daffodils for Detroit. With another 500,000 to take in these beautiful blooms. The flowers are springing to life now, and peak viewing will be in the next two weeks.
The city will provide Daffodil maps to guide visitors to the best viewing areas. The peak viewing time is now through the end of April.
Some of the best areas to view the daffodils are:
• The foot of the Belle Isle Bridge and Gabriel Richard Park
• Arden Park, Boston, Chicago Boulevards and Edison Street in the Boston-Edison neighborhood
• Rosa Parks North of West Grand Boulevard, including Gordon Park at Rosa Parks and Clairmount
• Palmer Greenway (Southbound Woodward Avenue, north of Seven Mile Road north near Palmer Park and the Palmer Woods neighborhood)
• Larned from I-375 to Mt. Elliott, just east of downtown
• Oakman Boulevard in the Aviation Subdivision
• Nardin Park