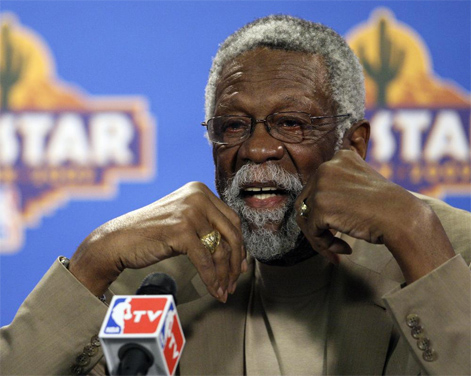 (AP Photo/Matt Slocum, file)
Bill Russell redefined how basketball is played, and then he changed the way sports are viewed in a racially divided country.
The most prolific winner in NBA history, Russell marched with Martin Luther King Jr., stood with Muhammad Ali, and received the Presidential Medal of Freedom from President Barack Obama. The centerpiece of the Boston Celtics dynasty that won 11 championships in 13 years, Russell earned his last two NBA titles as a player-coach — the first Black coach in any major U.S. sport.
Russell died Sunday at the age of 88, with his wife, Jeannine, at his side, his family said in a statement posted on social media. No cause of death was immediately available; Russell, who had been living in the Seattle area, was not well enough to present the NBA Finals MVP trophy in June due to a long illness.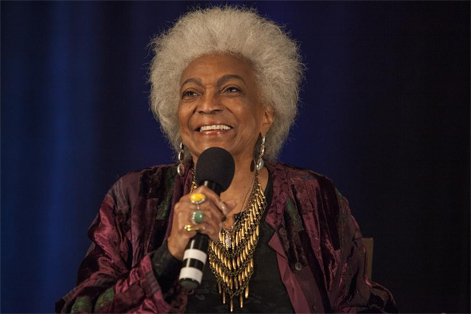 (Photo by Barry Brecheisen/Invision/AP, File)
Nichelle Nichols, who broke barriers for Black women in Hollywood when she played communications officer Lt. Uhura on the original "Star Trek" television series, has died at the age of 89.
Her son Kyle Johnson said Nichols died Saturday in Silver City, New Mexico.
"Last night, my mother, Nichelle Nichols, succumbed to natural causes and passed away. Her light, however, like the ancient galaxies now being seen for the first time, will remain for us and future generations to enjoy, learn from, and draw inspiration," Johnson wrote on her official Facebook page Sunday. "Hers was a life well lived and as such a model for us all."
Her role in the 1966-69 series as Lt. Uhura earned Nichols a lifelong position of honor with the series' rabid fans, known as Trekkers and Trekkies. It also earned her accolades for breaking stereotypes that had limited Black women to acting roles as servants and included an interracial onscreen kiss with co-star William Shatner that was unheard of at the time.