THERE IS HOPE: BUT WE STILL NEED A VIDEO!
Op-Ed by Rev. Wendell Anthony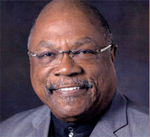 DETROIT – "We must accept finite disappointment but never lose infinite hope," Dr. Martin Luther King, Jr. These words capture the very spirit of this moment in history. A jury of eleven whites and one black in the heart of the "old confederacy" have found three white men guilty of felony murder for the heinous killing of a Black man jogging named Ahmaud Arbery on February 23, 2020. In a Brunswick Georgia courtroom, the verdict comes back guilty, guilty, guilty for all three men, George McMichael, his son Travis McMichael, and William "Roddie" Bryan.
These men used as their defense an antiquated, outdated "citizen's arrest law" codified in 1863 when Georgia was a part of the slaveholding confederacy. The ACLU of Georgia has indicated that the old law was an example of systemic racism and empowered mobs that lynched more than 500 Black people in cases recorded in Georgia between 1882 and 1968.
The statute was recently revoked in May 2021. Chris Slobogin, a law professor at Vanderbilt University said, "Citizen arrest laws put dangerous powers in untrained hands." These laws were originally passed to enable the capture of Africans who had escaped enslavement in America. Even Georgia Governor Brian Kemp, no real advocate for civil rights, admitted "Arbery was a victim of vigilante style violence that has no place in Georgia, and that statute was ripe for abuse."
Abuse it was. The first Georgia prosecutor Jackie Johnson was indicted on counts of obstruction and violation of her oath of office as she attempted to delay the arrests of the men in this case. The second prosecutor George Barnhill said, "Arbery was guilty of a criminal offense and what the men did was perfectly legal." It was only after the release of a video by convicted murderer William Bryan of this tragic death that things begin to happen. The Georgia Bureau of Investigation took charge of this case, and the accused murderers were arrested and charged. A new prosecutor Linda Dunikoski and her team were eventually brought in to takeover this case.
One must ask why does it take a video to bring justice in the case of the death of African Americans? It was a video that pulled back the cover in the murder of Ahmaud Arbery. It was a video that pulled back the cover of the murder in the case of George Floyd. Emmett Till had no video. Sandra Bland had no video. Trayvon Martin had no video. Breonna Taylor had no video. Kevin Strickland who served 43 years in a Missouri correctional center for a crime he did not commit, had no video. Upon his release he said, "I didn't think this day would come."
Muhammad Abdul Aziz and Khalil Islam, both spent more than 20 years in prison for the murder of Malcolm X. Exonerated after 55 years for a crime they did not commit they had no video. Have Black people been relegated to video justice? Despite this reality, it was a praying mother, Wanda Cooper-Jones, and a praying father, Marcus Arbery, who kept the fire of hope burning believing their son would get justice. It was a praying mother who thanked all those who prayed, marched, and supported her in her moments of desperation and humiliation levied against her son.
It was a praying mother who had to leave the courtroom when the Defense Attorney Laura Hogue disgustingly described the appearance of Mr. Arbery as wearing "Khaki shorts with no socks to cover his long, dirty toenails." It was a praying father who had to contain his emotions as he listened to Defense Attorney Kevin Gough say, "We don't want any more Black pastors in here.
And what if we had a bunch of folks coming in here dressed like Colonel Sanders with white masks sitting in the back?" The reference was obvious to the mascot for Kentucky Fried Chicken. These strategic metaphors, racist in content, overtly offensive in their intent, were designed to unleash the stereotypical emotions and prejudices of the jury. On the Wednesday before Thanksgiving 2021, we now can give thanks that it did not work. This case in which a prosecutor gave a textbook explanation of law and how it should be applied, regardless of color, location, or vocation, is indeed one for the books.
Prosecutor Linda Dunikoski in her prosecution of this case demonstrated that there is still a reason for hope. Judge Timothy Wamsley did not exclude anyone from the courtroom. He did not make himself a spectacle of jurisprudence in the courtroom like Judge Bruce Schroeder did in the trial of Kyle Rittenhouse. Mr. Rittenhouse was the accused defendant in a case of a double killing and the wounding of another victim in Kenosha Wisconsin.
We can embrace the finding of justice in this case. We must not forget the countless other cases where there is no video or the full measure of justice is not applied equally. Our nation still has not adopted the George Floyd Justice in Policing Act. We must elect and appoint good, fair, and impartial judges to state and federal courts across the land. We cannot rest because the spirit of those who cry out for justice is still not at rest.
We do not have to agonize over the question of ultimate justice. We must continuously organize and demand equal justice under law. African Americans and other people of color should not have to depend upon a video in order to receive justice. We should depend upon the rule of law as every other American in the realization that justice and liberty is for all.
Today the door leading to hope has been cracked open a little wider. We can see through the crack that there is justice in the house. It is up to those who believe in the system of justice to continue to push against the door until it is all the way open. Until our nation no longer has to hear a Black mother utter the words in the unnecessary and treacherous death of her child, "It's been a long fight. It's been a hard fight. But God is good.
To tell you the truth I never saw this day back in 2020. I never thought this day would come." We must still fight. Until an African American father no longer has to sit in the courtroom for the same reasons and wonder if justice is going to be served, the door is not yet completely open. Unable to contain his emotions, Mr. Arbery lets out a groan, a sigh of relief, a moaning of spiritual fulfilment, saying outside, "It's been a long time coming. Love everybody. No father, I don't want any daddy to go through what I've been through. Black or white, all human beings need to be treated equally. All lives matter.
Today is a good day." We must still fight.
Today is a good day for hope.
James Weldon Johnson speaks to us of hope,
"Stony the road we trod:
Bitter the chastening rod,
Felt in the days when hope unborn had died.
Yet with a steady beat,
Have not our weary feet,
Come to the place for which our fathers sighed?"